Outstanding alumni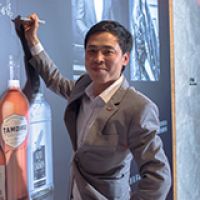 Kevin (Zhongwei) Li
National Sales Manager, Julius Meinl Coffee, Shanghai, China
Bachelor of International Hospitality Management
For the past 150 years, customers around the world have enjoyed coffee, tea and fruit preserves by Austrian brand Julius Meinl Coffee. Today, Julius Meinl operates in 70 countries, serving more than 40,000 customer each day. As the company's national sales manager in Shanghai, AUT hospitality alumnus Kevin (Zhongwei) Li aims to add to that number.
"My role is to develop the overall business strategies and expand the company's market share in China. One of my main target markets is on-trade, including sales to all international hotel groups, restaurants, café chains, and airlines.
"I get great satisfaction when we meet or exceed expected business growth, or when a business solution helps our business partners increase sales or improve consumer satisfaction."
A solid career foundation
Studying hospitality management at AUT equipped him with a great foundation for his life and career journey, Kevin says.
"I first came to New Zealand to study English, and then started my Bachelor of International Hospitality Management at AUT. It was quite clear that hospitality management was the subject for me, as I wanted to become a professional manager in a five-star hotel, and AUT was well known for its hospitality and tourism programmes."
After graduating in 2008, Kevin's dream of working in a luxury hotel came true.
"After graduating from AUT, I started my full-time career at the Spencer on Byron where I worked for four years. I then joined Jet Park Airport Hotel as the hotel duty manager, and also became part of the sales and marketing team to help develop Jet Park's Asian markets. After working at Jet Park for a year, I returned to China in 2014."
Creating career-ready graduates
He enjoyed his time at AUT, Kevin says.
"I really enjoyed that AUT's hospitality degree includes a mixture of independent and group studies. All students are encouraged to discuss and share their opinions during group studies and everyone's effort is valued.
"My time at AUT helped me develop my presentation skills, and which has been very beneficial for my career now. I also appreciated that the AUT degree also covered kitchen operations, restaurant services and other practical hospitality skills."
Kevin's advice for other students is to make the most of your time at university.
"Enjoy your study at AUT, make friends, and try to be proactive and interactive in group studies. It's also a good idea to find a part-time job related to your degree, so you can start to develop your skills earlier and get a better understanding of the real business world."