Outstanding alumni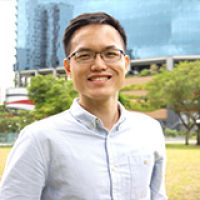 Jeremiah Chia
Co-Founder and Principal Partner, JCK Singapore
Bachelor of Business in Accounting
AUT prepares students well for the changing world, says business alumnus Jeremiah Chia who came to AUT as an international student from Singapore.
"The world is changing and the job market is too. Gone are the days when a degree guaranteed you a nice job and a fulfilling career.
"I believe AUT prepares students for this modern world by including workplace experience as part of most programmes, and focusing on lifelong learning and the skills needed in today's workplaces."
Choosing AUT
He always planned to further his education overseas, Jeremiah says.
"I had always planned to do my undergraduate studies overseas. I originally looked at universities in Australia, but that changed when my elder brother headed to New Zealand to study. When I visited him for his graduation ceremony and did some travelling around New Zealand, I knew I wanted to come to New Zealand instead and to study in Auckland."
After deciding to study in New Zealand, Jeremiah carefully weighed up his study options.
"I chose AUT because of a few factors. AUT is an internationally recognised university, and is ranked in the top 150 universities in the world for accounting and finance. However, the deciding factor for me was that the AUT business degree includes workplace experience every student must complete before they can graduate."
Making connections
The people were one of the highlights of his time at AUT, Jeremiah says.
"I'm a natural people person and love talking to people. In my time at AUT, I got to meet many great people – from staff at the campus café and the fantastic friends I met in my classes to my favourite lecturers, including senior lecturer Irshad Ali, Dr Sabrina Chong, Dr Anil Narayan and Dr Sue Yong."
For Jeremiah, the time at AUT was also the beginning of a new chapter in his life.
"I got to know my wife during Summer School in 2014 – she was one of my classmates and a year later we got married in New Zealand."
More than a job
Since graduating in 2016, Jeremiah has returned to Singapore, where he had stints at a local charity and a global mid-tier accounting firm before co-founding JCK Singapore.
"Our firm specialises in accounting and taxation advisory services, and setting up brand new accounting systems for our clients. We are certified advisors for both Xero and Quickbooks Online, and have also recently signed an agreement with Zoho Corporation, which has offices in India and the USA, and became Singapore's first Zoho Books Certified Advisor Firm.
"Because I have a share in this business, I know that it's not just a job; it's about the brand that I'm building and the reputation I have to upkeep."
He enjoys the variety of his role, Jeremiah says.
"As the principal partner of JCK Singapore, I'm involved in all aspects of business development, and I'm also in charge of the output of the services we provide for our clients. I love building the business at JCK Singapore, and helping my clients with compliance and statutory filings so that they can focus on their core business."