Outstanding alumni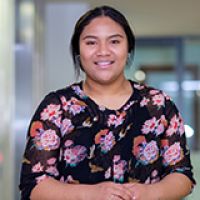 Hana Velio
Finance Analyst, Genesis Energy
Bachelor of Business in Accounting
A high school teacher first sparked her interest in accounting, says AUT business alumna Hana Velio who now works as a finance analyst for Genesis Energy.
"I first became interested in accounting when I decided to take it up as a subject in high school. I loved that my teacher took the time to explain things thoroughly, and made sure that everyone in the class succeeded.
"She took the time to bond with each student, and it became my favourite class because everyone in class got along so well. So when it was time to decide what to study at university, accounting was the obvious choice."
Support to succeed
Her Bachelor of Business has given her a solid foundation for her accounting career, Hana says.
"I would highly recommend AUT's business degree to others. In fact, I sometimes find myself telling others, especially kids who are fresh out of high school, how great AUT's Bachelor of Business is. The staff provided us with all the necessary information and support to succeed.
"The people I met and how they influenced my journey are what stood out most about my studies. I also appreciated the knowledge I gained, not just from my lectures but from the whole experience of being a university student."
The supportive environment helped her face the challenges she encountered, Hana says.
"The biggest problem I faced was time management. My father was diagnosed with dementia in my first year at AUT, and this meant I had to pick up some extra shifts at work to support my family. I really struggled with working, studying and looking after dad. I was blessed to be surrounded by people who supported me and staff who helped me re-arrange my study load."
Opening the doors to a great career
After graduating, Hana joined Genesis Energy as a graduate accountant, an opportunity that opened up thanks to a summer internship through the TupuToa programme.
"Through the TupuToa programme I was offered a summer internship with Genesis Energy, which made it easy for me to stay on to do the final-year workplace experience for my business degree.
"I was fortunate to be placed in a team that was adamant that I got to experience a variety of things relevant to my major. I got to work with the accounts payable team, handling day-to-day expenses, entering invoices and doing my first pay-run to suppliers. I also got to sit in on their meeting with our CFO, which was the highlight of my workplace experience."
Hana's experience at Genesis Energy also opened the door to her first job after university, and she remained at the company as a graduate accountant. She was recently offered a finance analyst role at Genesis Energy.